Other Courses and Events
'Education is not a preparation for life, but life itself.' John Dewey (philosopher, psychologist + father of the concept of 'experiential learning') At ER Outdoors we believe in life-long experiential learning and in making it fun. In early 2019 we have two such offerings both of which will be held at local Outdoor Centres in order to keep prices down.

Life Wrtiting Course
Dates: 11th 17.00 to 13th January 16.00
Venue: Arete Outdoor Centre, Llanrug LL55 4AP
Tutor: Paul Dodgson
Price:
Residential including all meals: £190 for guaranteed single room / £160 for room shared with one other person.
Non-residential with lunches: £112.
For more information please see below.

Discovering History through Murder Mystery
Dates: Arrive 13.00 on 16th + depart 12.00 on 17th February
Venue: Marle Hall Outdoor Education Centre, LL31 9JA
Price: £150 per person or £290 for two people booking together.
For more information please see below.

DISCOVERING HISTORY THROUGH MURDER MYSTERY FEBRUARY 16TH AND 17TH 2019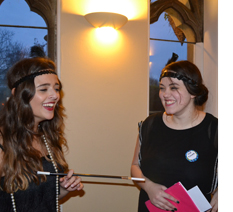 Venue: Marle Hall Outdoor Education Centre, LL31 9JA
Price: £150 per person or £290 for two people booking together.

You are invited to travel back in time to February 16th 1926 and be an honoured guest at a house party at Marle Hall (near Llandudno Junction). Should you choose to accept this invitation you will be asked to fill in a questionnaire about yourself in order that the part you play reflects your interests and personality and allows you to feel comfortable in your new 'skin'. For instance, some people will be happy to have a big part; some will prefer to stay in the background. Some may enjoy being a film star, famous sportsperson, a politician or a member of the aristocracy while others may wish for a more ordinary alter ego. Just let us know what you want and leave the rest to our author.

Once all the characters have been written, you will be sent a formal invitation including an outline of what life was like at the time, some information on the context of the party and a brief description of each guest. You will also receive information about what people wore in 1926 and some ideas on creating a suitable outfit for the party whether you like to scour charity shops, trawl the internet, or make use of local fancy dress shops.

Arriving at Marle Hall on the Saturday, you will settle into your room. This will be a twin bedded 'teacher's room' if you attend as a couple or single occupancy of a small dormitory if you attend alone. (Friends wishing to share a dormitory should let us know at the time of booking). Afterwards you will have the chance to relax over 'a brew' and read a specially created souvenir newspaper which will include a blend of information about actual historical events and clues about the personalities and activities of other guests at the party.

At 2.20 pm, afternoon tea will be served comprising a buffet of sandwiches, cakes and nibbles. As you refresh yourselves you will meet all the other guests in character. Once your energy levels have been properly recharged, it will be time to learn the Charleston from qualified dance teacher Helen McGreary of Dance Classes North Wales (www.dance-classes-north-wales.co.uk). Challenge by choice is key to our approach so it will be permissible to watch from the side lines if dancing is not your thing, but remember – you only live once!!

From then on things are shrouded in mystery as a murder is discovered and you and your fellow guests become both suspects and detectives. Clues will be found, accusations made and explanations offered before a four course dinner is served. As you eat you will have the chance to question those you suspect of committing the dastardly deed. (Please note that Marle Hall does not have a licence to serve alcohol so please bring your own. Corkage will not be charged).

After dinner you will be asked to write down who you think committed the murder and why. The true solution will then be unveiled and a small prize given to those who got it right. Prizes will also be awarded for best actor / actress and best costume.

The following morning you can enjoy a lie-in or go for an early morning walk then partake of a full Welsh breakfast before departing at 12.00 noon. Maximum of 16 guests.

Date: 13.00 February 16th to 12.00 February 17th 2019
Venue: Marle Hall Outdoor Education Centre LL31 9JA
Price: £150 per person (£290 for two people booking together – you do not have to be a couple to benefit from this discount). Payment required at time of booking. Full refunds will be given if you cancel up to 4 weeks before the event and 50% refunds will be given on cancellations up to 2 weeks beforehand. After this no refunds will be available since all the writing will have been completed, resources produced and commitments on numbers given to the venue owners.
LIFE WRITING JANUARY 11TH TO 13TH 2019
Venue: Arete Outdoor Centre, Llanrug, Gwynedd, LL55 4AP
Price: £160 (£190 for guarantee of single room occupancy). Non-residential with lunches £112.
Dates: Arrive 17.00 11th January and depart 16.00 13th January

TUTOR
Paul Dodgson is a writer, radio producer, teacher and musician who has written and produced extensively for the BBC. He has a particular interest in teaching techniques of memoir writing. Three of his sixteen BBC plays have told stories about events in his life including 'On the Road Not Taken' in which he talks about his love of music and how he eventually discovered the courage to live a childhood dream of going on the road as a musician. More recently he has developed this story into a book which is soon to be released by publishers Unbound. Paul has taught creative writing around the world, been a writer-in-residence at Exeter University and is a Hawthorne Fellow.

THE COURSE
During this course Paul will help you investigate memory; look at ways of establishing style and tone; explore how to create a sense of time and place; and work at writing believable dialogue. It is suitable for everyone from complete writing novices to experienced authors. Relive your adventures, share what you have learnt and have a lot of fun along the way. Paul will also talk a little bit about getting work published if this is your aim. We asked Paul to run this course because Lun Roberts of ER Outdoors attended a life writing course he ran at Ty Newydd Creative Writing Centre a few years back and discovered for herself what a cathartic and exhilarating experience such writing can be.

ACCOMMODATION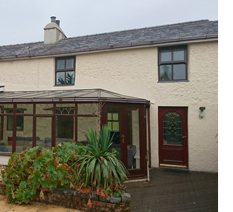 This course is being held at Arete Outdoors, Llanrug in their recently acquired farmhouse. Sleeping accommodation comprises twin rooms and small dormitories. Depending on numbers it may be possible for participants to each have a room to themselves. However if you need guaranteed single occupancy, please let us know and we will ensure this is the case. There will be an extra charge for this – please see prices below.

CATERING
Food will be provided for all meals from dinner on Friday night to lunch on Sunday, but the cooking will be down to you as a group helped and organised by Lun Roberts of ER Outdoors who will be on site throughout the course. Please let us know if you have any particular dietary requirements. Arete Outdoors do not have a licence to sell alcohol so please bring your own or it can be obtained locally.

Maximum of 10 participants.

Date: 17.00 January 11th to 16.00 January 13th 2019
Venue: Arete Outdoor Education Centre, Llanrug LL55 4AP
Price: £160 (£190 for guarantee of single room occupancy). 50% deposit required with payment. This is refundable on cancellations up to 4 weeks beforehand when the balance of payment is required.