Welcome to ER Outdoors
We are passionate about experiential learning and about helping people feel connected to the world around them
COURSES FOR OUTDOOR PROVIDERS
We run a variety of courses for outdoor providers including occasional free 2-hour workshops for the Institute for Outdoor Learning (IOL) and the Mountain Training Association (MTA). A brief summary of our courses is provided below. For more information please explore the 'Courses' drop down menu in the panel above.

'FACILITATING EXPERIMENTAL LEARNING IN THE OUTDOORS'
This is a two-day course designed and accredited by the Institute for Outdoor Learning and aimed at introducing the main aspects of facilitation to trainees and new instructors. Especially useful for those applying for the IOL's Registered Practitioner Award. Recognised as Continuous Professional Development for members of the Mountain Training Association. £120 per person.

'DESIGN AND ADVANCED FACILITATION OF OUTDOOR LEARNING EXPERIENCES'
This brand new one-day course has been developed in response to demand. It covers the main factors that need to be considered when designing outdoor experiential learning experiences and also looks at facilitation of more complex learning. Suitable for applicants for the IOL's Accredited Practitioner Award or those at a similar level. £50 per person

'FOSTERING A CONNECTION'
This is a one-day course designed specifically for outdoor providers by Natural Resources Wales, ER Outdoors, and Nature's Work to help providers foster their clients' feelings of connection with the environment and their wish to care for the world around them. Recognised as CPD by the Mountain Training Association and the Association of Mountaineering Instructors. £50 per person (£30 for students and members of IOL, MTA, SWOAPG, the Pembrokeshire Outdoor Charter Group and the North Wales Environmental Outdoor Charter Group).

FREE WORKSHOPS
These last 2 hours and are aimed at helping providers apply the theory behind good outdoor learning to their practice. Topics include 'Reflective Practice', 'Managing Challenging Behaviour' 'Developing a Facilitation Mind-Set' and 'Using the OEAP Environmental Learning Cards' (these cards were created by a number of authors (including Lun Roberts of ER Outdoors) for the Outdoor Education Advisors' Panel and are published by Harvey Maps). We also offer bespoke training courses which can be tailored to your organisation's needs. Please feel free to contact us to discuss these without obligation.
Fieldwork Support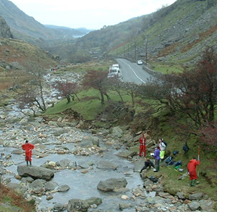 We offer advice and support for teachers running Geography fieldwork courses in North Wales. We can tell you which accommodation options offer classroom facilities, where you can find an esker or an easily accessible river or the best sand dune transects to use... or anything else you need to know for your visit. We can also tell you who to contact for permission to visit particular sites and answer all the other niggling little questions that make fieldwork trips so hard to organise from a distance. In addition, we can provide extra members of staff with the right qualifications for leading groups in the mountains if you need them and we can even design and deliver the whole trip for you if you prefer.

Other Courses and Events
WRITING COURSE
Further details coming soon

Date: January 2020 (precise dates coming soon)
Venue: Kent Mountain Centre, Llanberis LL55 4EL
Price: Will be listed soon
Follow us on:
Comments from course participants
'It was a brilliant course. I'm looking forward to putting the things I've learnt into practice' James (March 2017)

'This [Facilitating Experiential Learning in the Outdoors] course is just as important as doing your Single Pitch Award, probably more so' Ebbi (March 2017)

'The course… allowed instructors of all levels to experiment with techniques in a safe environment.' Bettina, D of E Leader

'The group have a cohesiveness which wasn't there before the trip... and they're more enthusiastic about their subject too.' Mark, Geography Teacher

'Lun has a real talent for getting alongside each individual, helping them to identify and work towards their own learning objectives.' Heather, Management Training Consultant